Too many cables and cluttered wires?
Get rid of it all and also light up your room by getting the Mushroom LED Charging Station! This device is a central hub USB Charging Port for charging all of your devices; it also comes with an amazing lamp.
So light up and keep your workstation well organized!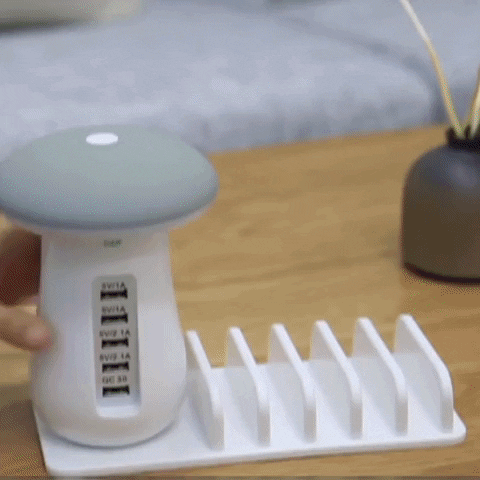 The charging station has one Qualcomm Quick Charge 3.0 port that can recharge your device that supports fast charging in no time. Other four ports automatically detect your device and allocate the right amount of power for the fastest and safest charging supported by the device.
MULTI-PORT CHARGING PORT
The perfect solution for multi-devices charging with QC 3.0 Fast Charger interface and 4 Smart USB ports. This device charging station can charge up to 5 devices simultaneously. Moreover, it is equipped with a smart IC that offers full-speed charging for almost all smartphones, tablets, smartwatches, or other devices within Rated voltage 100-240V input.
CHARGE FASTER
Built-in Qualcomm QC 3.0 Tech rapid charging for devices which support fast charge capability.
MUSHROOM LED DESKTOP LAMP
Not only a cell phone docking station but also a lovely mushroom desk lamp. It can be controlled by a simple hand touch to turn on or off.
CLEAN AND TIDY
5 individual brackets for holding your devices when charging. A multiple-device organizer keeps all your cell phones, tablets, and remotes in one spot, with no more cluttered cables and mess.
Specifications: 
Rated Input: 100-240V, 50-60HZ
Rated Maximum Total Output: DC 5V-6.0A
Maximum Output: 2.1A
Cord Length: 1.5m(3.94FT)
Material: High strength and high-temperature resistant PC fireproof material
Package Includes: 
1 x 5 Port USB Charger Station
1 x LED Mushroom Lamp
1 x Charger Organizer
1 x AC Cable (EU/UK/US/AU Plug)